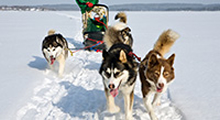 Dog sledding and Snowmobile Québec City - Orléans Island!
A jam packed action filled weekend! We will get to drive our snowmobile (ski-doo) and then be at the command of our dog sled team, and then we will be ice fishing!
Saturday, we will visit the Montmorency Falls and enjoy the festive ambiance of the heart of Old Québec! The hostel, where we spend the night is quite charming! The next morning we will be taking part in our snowmobiling and dog sledding adventure. Orléans Island is situated about 5 hours from Ottawa, near Québec City.
Activities for the week-end include:
Bus transportation, night in Hostel, 1 hour of dog sledding, 1 hour of snowmobiling, ice fishing activity, guides and entertainment, Montmorency Falls visit and its history, Old Québec visit with historical tour, exploration walk along the St-Lawrence shore with biodiversity explanations, skating on Place Youville in the heart of Old Québec City (optional-skate rental available on site 8$)  
NOTE:  warm jacket, pants, boots and gloves are provided for the dog sledding and snowmobiling activities.
Only 45 spots available per weekend. No refund. If you register and cannot attend the trip, you have to find a replacement.