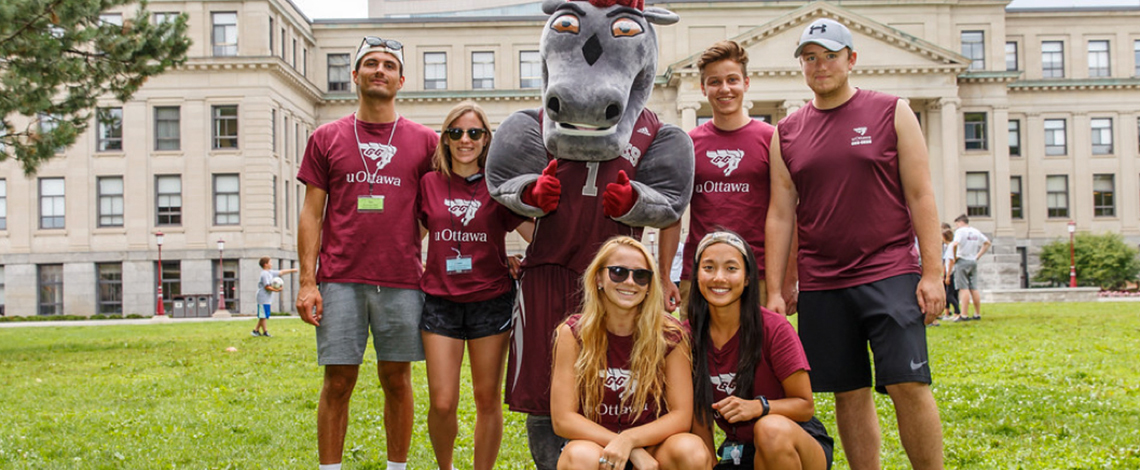 NB:

All Gee-Gees Camps include pre and post child-care from 7:30 a.m. – 9 a.m. and 4 p.m. – 5:15 p.m. (late fees apply)
CELBRATE THE 2020 OLYMPICS WITH US!
The Gee-Gees Camps will have a variety of different activities planned to mark the Summer Olympics games held in Tokyo between July 24th and August 9th 2020. Campers are encouraged to wear the jersey of their favourite country and come cheer the athletes on with us!
They will then have an opportunity to compete in their very own mini-olympics, meet past olympians and maybe even climb on the podium at the Gee-Gees' Olympics week closing ceremony!
The Olympics themed weeks are limited to the weeks of July 27th to 31st and August 4th to 7th 2020. Make sure to register fast and reserve your spot to the Gee-Gees Camps 2020 Olympics weeks!
During the summer months, the University of Ottawa opens its doors to give the youth in our community a chance to learn and explore in the safe, friendly and bilingual setting of the Gee-Gees Summer Camps. These specially designed programs allow children of all ages to take part in a variety of sports, games, activities and recreational swims. The chants, laughter and friendly banter of campers and counselors are now a staple of campus life in the summer months.
All our summer camps include an all-you-can-eat experience at the university's cafeteria, as well as a daily recreational swim in our Olympic-size pool.
Note: All camps run rain or shine.
Specialized Sports Camps
Specialized camps offer sport-specific high-performance instruction for participants of all skill levels. Campers will receive instruction from Gee-Gees varsity athletes and coaches, giving them the highest quality instruction in the region. These camps will tailor instruction through age and skill specific group instruction; all while provided with continuous evaluation. These camps are truly for anyone looking to develop their athletic skills in any given sport.
Sports Camps
Our sports camps are for campers looking to gain athletic, leadership, artistic and social skills. These camps have a high camper to counselor ratio and take part in weekly activities and our weekly Friday show, where our Dance & Cheer camps perform. With all the learning and discoveries come incredible memories.