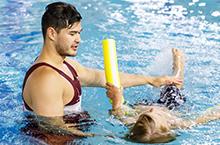 Camp Hours: 9:00 a.m. to 4:00 p.m.
Age: 13+ with necessary prerequisite
This camp is an action-packed week for youth who hold Bronze Medallion looking to complete the next step towards becoming a lifeguard. Bronze Cross prepares lifesavers for the safety supervision role and responsibilities of assistant lifeguards in aquatic facilities. Campers will refine their first aid and water rescue skills, improve their physical fitness and swimming efficiency, while learning decision making skills to run an aquatic environment and keep swimmers safe.
Pre-requisites:
Bronze Medallion certification
Ability to swim at least 500m and support oneself in deep water.
Completion of Emergency First Aid recommended
Special Features:
Materials (provided): Bronze Cross Workbook, CPR Face Shield
Target Audience: Competitive aquatic athletes, leadership campers.
Successful candidates receive:
Bronze Cross certification
Standard First Aid with CPR-C/AED certification
All of our camps are offered bilingually.