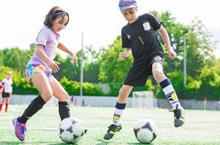 Camp Hours: 9:00 a.m. to 4:00 p.m.
Free childcare services hours: 7:30 a.m. to 9:00 a.m. and 4:00  p.m. to 5:15 p.m.
Late pick-up fees may apply.
Lunch and morning snack are included.
The 2019 provincial OUA bronze medalists uOttawa Gee-Gees soccer team offers a specialized co-ed soccer camp for players of all levels, taught by current and former Gee-Gees players and coaches. The skill development and groups will be organized by age and ability. Daily training at a low players-to-coach ratio will include individual field and goalkeeper positional training in addition to daily themes such as one-on-one attacking and defending, passing, shooting, and group play. Special features include: tournament, game against the camp staff and small-sided games on the Gee-Gees Field inside the dome.
Special features:
Final-day four-on-four tournament and game against the camp staff
Daily training and small-sided games on the Gee-Gees Field inside the Dome
Low players-to-coach ratio
Individual field and goalkeeper positional training
Skill development for all ages and ability levels
Daily themes such as one-on-one attacking and defending, passing, shooting, and group play