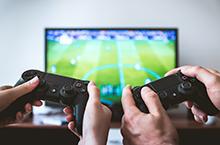 FIFA 21 - EURO CUP KICK-OFF (PS4)
Dates: June 11-13, 2021 (PlayStation 4)
We are hosting another FIFA Tournament! To celebrate the Euro 2021 kick-off, we are hosting a Euro Cup themed tournament. This tournament will be open to all current uOttawa students and there will be prizes up for grabs.
Cheer on your team in the 2021 Euro Cup before competing for a championship yourself, you never even have to leave your couch.  Sign-up now to reserve your spot.
Register for the FIFA21 EURO Cup Kick-off tournament! 
Tournament format
Players will participate in a group stage (preliminary rounds), with a minimum of 2 games. The top teams will advance to the knockout stage where they will play for a chance to be in the finals! The exact tournament format will be dependent on the number of participants.
Schedule
June 11 & June 12: Group stage (preliminary) games
June 13:  Knockout stage games
Games will be played in the evening so that you can can watch and cheer on your favourite team in the 2020 Euro Cup happening during the day!