Due to the new restrictions announced by the Ontario government on December 21, 2020, our sports facilities will be closed until further notice as of December 24, 2020.  This closure includes all recreational facilities in Montpetit Hall (fitness centre, gyms, dance studios, pool), the Minto Sports Complex (access to the medical clinic currently remains available) and the Lees Dome. The programming that was previously scheduled in these facilities will also be suspended.
We recognize this is disappointing and hope to welcome you back into our facilities once conditions allow. 
Student Membership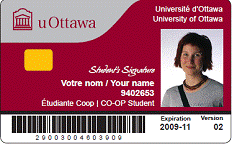 All costs associated with your student membership are included in student incidental fees. In order to take advantage of student-preferred pricing, you must be registered and have paid your incidental fees as part of your tuition (all students pay this fee, except students in the international exchange program, Law students in the Bar process, certain students in Medicine (such as those in internship), students from campuses outside of Ottawa and certain special students. These students must purchase a membership card in order to participate in Sports Services programs).
Your student membership includes access to:
NOTE: Student membership does not include free parking at HLC.
Terms of access to sports facilities
Student and employee cards issued by the University of Ottawa as well as those issued by Sports Services are the only recognized official pieces of ID for access to sports facilities, no other piece of ID can be used to enter the facilities. Sports Services reserves the right to refuse access to any member who does not have their access card at time of entry.